Moderator: Groceteria
Great Pumpkin
Posts: 1585
Joined: 04 Nov 2005 12:13
Location: NC Triad
Contact:
---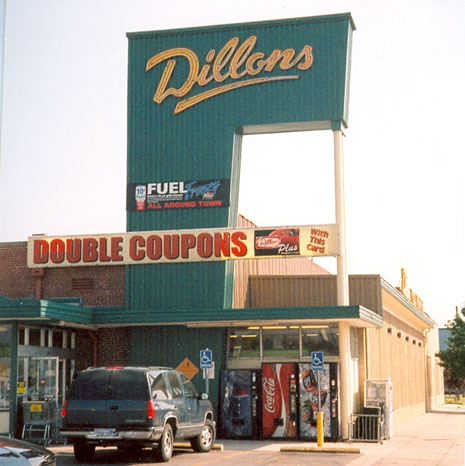 This thread wouldn't be complete with a picture of the
Black Widow Murderer-type Kroger at 1640 S. Broadway
! It opened in 1953, was sold to Dillons before the decade was through, was reunited with Kroger via acquisition in 1985, and
remained open until 2014
.
Dillons wouldn't have been the first time Kroger bought its way into Wichita, either: It's evident that they acquired the Dunn Mercantile stores in the 1930s. Dunn Mercantile was the
only
significant chain in the city during the 1920s, and Kroger inherited its leadership position...until Safeway made an aggressive push into Wichita, surpassing Kroger in store count by the late 1940s. Dillons got its start in the same decade, but they didn't overtake Safeway until the 1970s. Since Albertsons withdrew in 2002, Dillons has essentially been Wichita's only general-interest grocery chain.
There are other surprises evident in the table.
Safeway
did
not
buy or operate the Piggly Wiggly stores in Wichita: There was no continuity between the chains, and PW disappeared by 1936 with no clear successor.
A&P
crashed and burned so fast: There in 1930, gone by 1936!
Springfield, MO
is the only other place I've seen them make such a quick implosion.
Jumping ahead a few decades, I'm surprised to see
Alpha Beta
, that stalwart of California, here: I guess Skaggs (or American Stores?) spread its brands far and wide.
I'll have to comb through the table to see what other architectural gems lurk in this city. 1640 S. Broadway still stands, even though it's no longer selling groceries. (The building briefly housed a Save-a-Lot after Dillons' closure, and it's
now for lease
.)
"The pale pastels which have been featured in most food stores during the past 20 years are no longer in tune with the mood of the 1970s."
Andrew Turnbull
---
Now, for the architectural assessment...
* One thing that struck me when browsing through old locations on Google Street View was how many small, early 20th-century storefronts were housed in one-story buildings with no apartments overhead. Wichita must have had low density.
* Another thing that struck me was how much demolition and redevelopment the city has gone through in downtown commercial areas. As far as I can tell,
none
of the buildings that housed 1920s Piggly Wiggly stores survive.
Safeway is the grocer I usually count on for the most expressive contributions to the architectural record, and Wichita is no exception. Several good 1940s shoebox buildings survive:
921 S. Seneca St.
, which has nicely detailed brickwork on the facade.
921-923 E. Douglas Ave.
608 W. Douglas Ave.
1062 N. Broadway
, a gem with contrasting brick and a rounded building corner.
416 W. 21st St. N.
, which also has nice brick details on the outside.
When it comes to newer Safeways, however, the record is rather slight: Demolition and site redevelopment have done their dirty work to wipe the pylons and Marinas away. The best surviving 1950s Safeway is
1525 S. Broadway
, which has a prominently visible barrel roof but no surviving pylon. The sole surviving Marina is
1150 N. Broadway
...but at least this offers the compensation of being a spectacular example with up-turned wings and an original facade.
Among later Safeways,
3104 E. Douglas Ave.
is the most interesting. This was a 1970s store with an exterior that survives in fairly original condition (the portal by the entrance for the circle-S symbol is still visible). And an 1980s replacement store stands next to it! Nowadays Ace Hardware is in the 1970s store, while the 1980s store now houses a Dillons.
Among Kroger stores, a few noteworthy examples survive. There is a 1940s store at
2747 Boulevard Plaza
that has an architectural pylon and an exterior that hasn't changed much since the 1950s.
810 W. 13th St. N.
is an archetypal store from the same era. Finally:
4801 E. Central Ave.
was a 1940s store that was transferred to Dillons. It remained open until a decade ago, and it still has visible labelscar!
Among Dillons' own stores, I find very little to get excited over. Their supermarkets had boring, generic, and inconsistent designs. The original(?) location on
900 W. Douglas Ave.
is in a two-story building that still looks impressive, though. Another gem is
1203 N. 2nd Ave. in Mulvane,
a 1960s location in a small gabled building with an unusual serif-lettered neon sign and perfect period exterior. This store would be well worth a look-see in person!
"The pale pastels which have been featured in most food stores during the past 20 years are no longer in tune with the mood of the 1970s."
Andrew Turnbull
---