I've come to have a pretty good comprehension of London, Ontario's grocery history over my last two years of living there...but every now and then, I'll still stumble upon something that trips me up.
A case in point:
346 Wellington Road.
* According to the directories, an A&P store operated from this site from 1961 or earlier to 1990 or later. (I have a note written that the store "opened late 1955," but I can't remember what my source was for that bit of information.)
* There's a building on this site that looks like a quintessential Canadian A&P...from the 1980s, not the 1950s. It looks identical to ex-A&Ps I've seen in Windsor, Niagara Falls, and Owen Sound. That's fine; they could have demolished and rebuilt at some point:
* Except
barely half a block away
at 395 Wellington Road, there's
another
A&P. This location opened by 1995, and is still open as Metro today: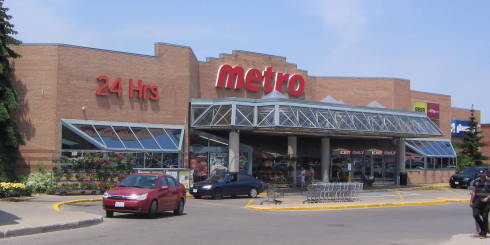 What could possibly explain this? Why would there be two A&Ps practically across the street from each other?
* I doubt that 395 Wellington was built as a replacement for 346 Wellington: The 1980s store on the latter site would have scarcely been a decade old (if at that) when the former opened, and the two stores are of roughly comparable sizes.
* It's possible that 395 Wellington was originally a Miracle Food Mart, and was transferred to A&P. That doesn't leave a big chronological window, though: It hadn't yet opened when the 1990 Vernon directory was compiled, and A&P bought the Miracle stores from Steinberg the same year.
Maybe the answers lurk deeper in the pages of the city directories of the early 1990s. I'll hit the books and see what I discover...