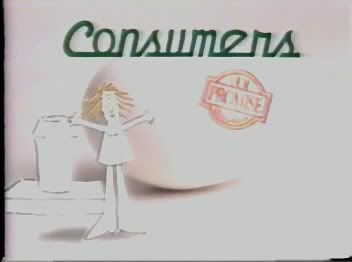 These stores were absolutely ubiquitous here in my little area of Southwest Missouri (and NE Oklahoma) throughout the '80s and first half or so of the '90s, when they up and disappeared altogether, but were for a time far and away the biggest chain in the area. Unfortunately, I can't find a shred of information on the company or what ultimately became of it on Google (of course, their name doesn't help matters any when it comes to searches). Were they strictly a regional thing, or was this a national chain?
To the best of my knowledge, at least in this area, they weren't a company who built new stores, but rather seemed to buy up existing ones (the Consumers that was in Miami OK in particular always seemed to me like it was a very old store). For the most part, the stores didn't necessarily seem to share a uniform look until the last few years of their existence when a couple of them were remodeled exterior-wise to look alike.
The image above is a framegrab from a 1992 TV ad, the animated woman popped up in most of their ads during this timeframe. The logo remained the same throughout its life. I remember earlier ads that used a jingle that went something like "Consumers, Consumers / Our promise - freshness!" (and of course, the "promise" slogan is still visible in this ad.)
I think their demise in this area can be laid squarely at the feet of the dreaded Wal-Mart Supercenters - about the time every Wal-Mart in the area was getting the Supercenter makeover is about the same time the Consumers stores began dying off one by one. I'm sure it also didn't help that many of their locations happened to be near Wal-Marts. (Another contributing factor may have been that they had an awful lot of stores - there were four in Joplin MO alone, and five if you count the one in (very) nearby Webb City. ...and Joplin ain't *that* big.) For some strange reason, none of the Joplin stores have ever housed grocery stores again - two of them sit empty, one's a furniture store, one seems to be offices for some construction company, and the Webb location houses a Big Lots.
Anyway, does anyone else recognize these stores from their areas or know anything about what happened to them? It's always bugged me how what was once such a dominant chain seems to have utterly vanished without a trace.