The
Ann Arbor thread
seems to be petering out...so here's what lies 50 kilometres east:
Dearborn, MI chain grocery/supermarket locations, 1930-59
.
Dearborn abuts Detroit, and its chain history is in many ways a microcosm of that bigger (and alas, more-difficult-to-research) city...but Dearborn has its own unique history and flavour. It was also a
very
interesting city to research. Here are some of the reasons why:
* Dearborn swelled
dramatically
in the 20th century, going from 2,470 residents in 1920 to 112,007 in 1960. That's a change of more than
4000%!
Of course, not all of this growth was organic: Dearborn merged with the community of Fordson (née Springwells) in 1928, and singlehandedly multiplied as a consequence of that.
* A direct consequence of the last point: There are only 10 grocers in the classified listing of 1926; none of them chains! So the table begins in 1930.
* And yet another: Dearborn underwent address renumbering in the early 1930s to eliminate discrepancies between the Dearborn and Fordson numbering systems. This primarily affected Ford Rd, Michigan Ave, and Warren Ave. This could have been a source of endless frustration for me, but fortunately a Rosetta Stone was available: The reverse-lookup section of the 1932 Dearborn city directory contained a handy cross-reference between the old and new systems for
every
address.
* Like many other cities, Dearborn has had its share of street renamings over the years. Greenfield Rd was Division Rd prior to March 1930. Also, Monroe St is "S Monroe St" in some 1930s and 1940s listings; which is a little perplexing because a North Monroe Street doesn't appear to exist.
And, some comments about the stores...
* Dearborn's chain history jibes somewhat closely with
Ann Arbor's
, with outfits like National and Packer's Outlet entering at similar times. Wrigley and Food Fair (the future Farmer Jack) both operated earlier in Dearborn than they did in Ann Arbor, though.
* Dearborn in the 1930s had a strong local competitor, C.F. Smith, that matched Kroger and A&P in store count. As was touched upon in the Ann Arbor thread, C.F. Smith survived until circa 1954 when they sold to National. National also bought C.F. Smith when the chain was in the midst of a massive relocation/rebuilding tear, so there is no continuity between the Smith locations of 1948 and the National locations of 1955 (though both of National's 1955 Dearborn stores were Smith stores in 1953). Of course, they didn't last long after that...
* As in Madison, WI (and quite a few other places), Kroger took over one of A&P's pre-supermarket locations when A&P consolidated. Wrigley was another A&P reoccupier.
* Unfortunately for survival, almost all the early supermarket locations on Ford Road have been demolished due to highway widening.
* One particularly-good specimen is
15219 Michigan Ave
, a 1950s C.F. Smith/National store with an L-shaped sign protruding from the barrel roof. Another well-preserved location is
3031 S. Telegraph Rd
, a 1950s Pantry store with an integral pylon still selling groceries as Save-a-Lot.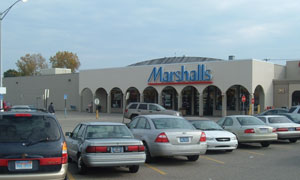 * There's one store on the list that's already been the recipient of
Groceteria fame
:
23001 Michigan Ave
. This was a Kroger store that opened in the first half of the 1950s, received a massive expansion and renovation into a Superstore in the 1970s, and was eventually replaced and reoccupied by Marshalls with no exterior modifications. A cube sign stands in front, and this has also been reused.
* No, there aren't any supermarkets in the Henry Ford Museum...even though there is
a porcelain-enamel Texaco station there
, a ton of neon signs, and oceans of other cool stuff!
I'll pause there, just in case there's anything one of the resident Michigan experts wants to add. Enjoy!